Mettā Creative Labs pt.1 - Micro-Festival edition.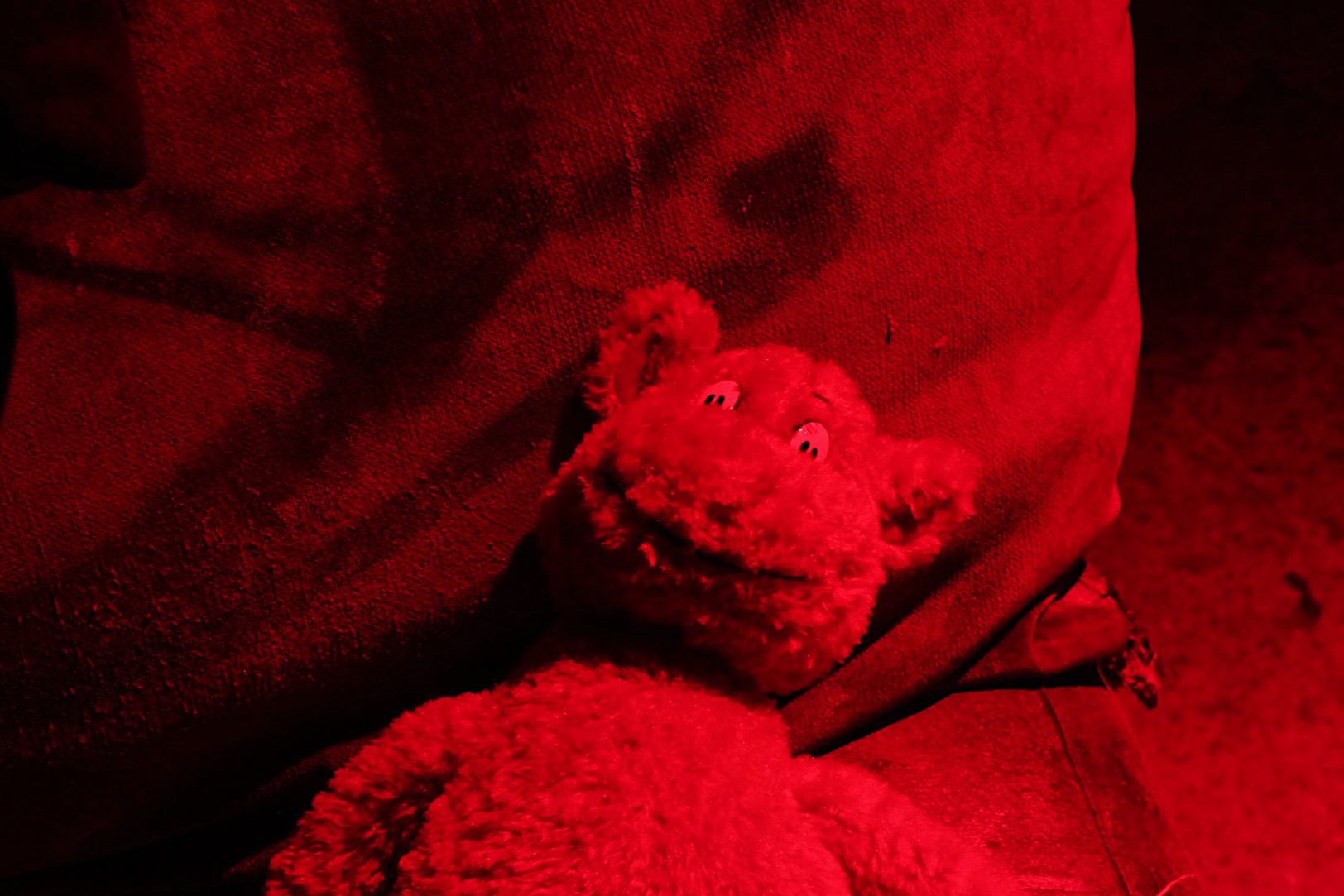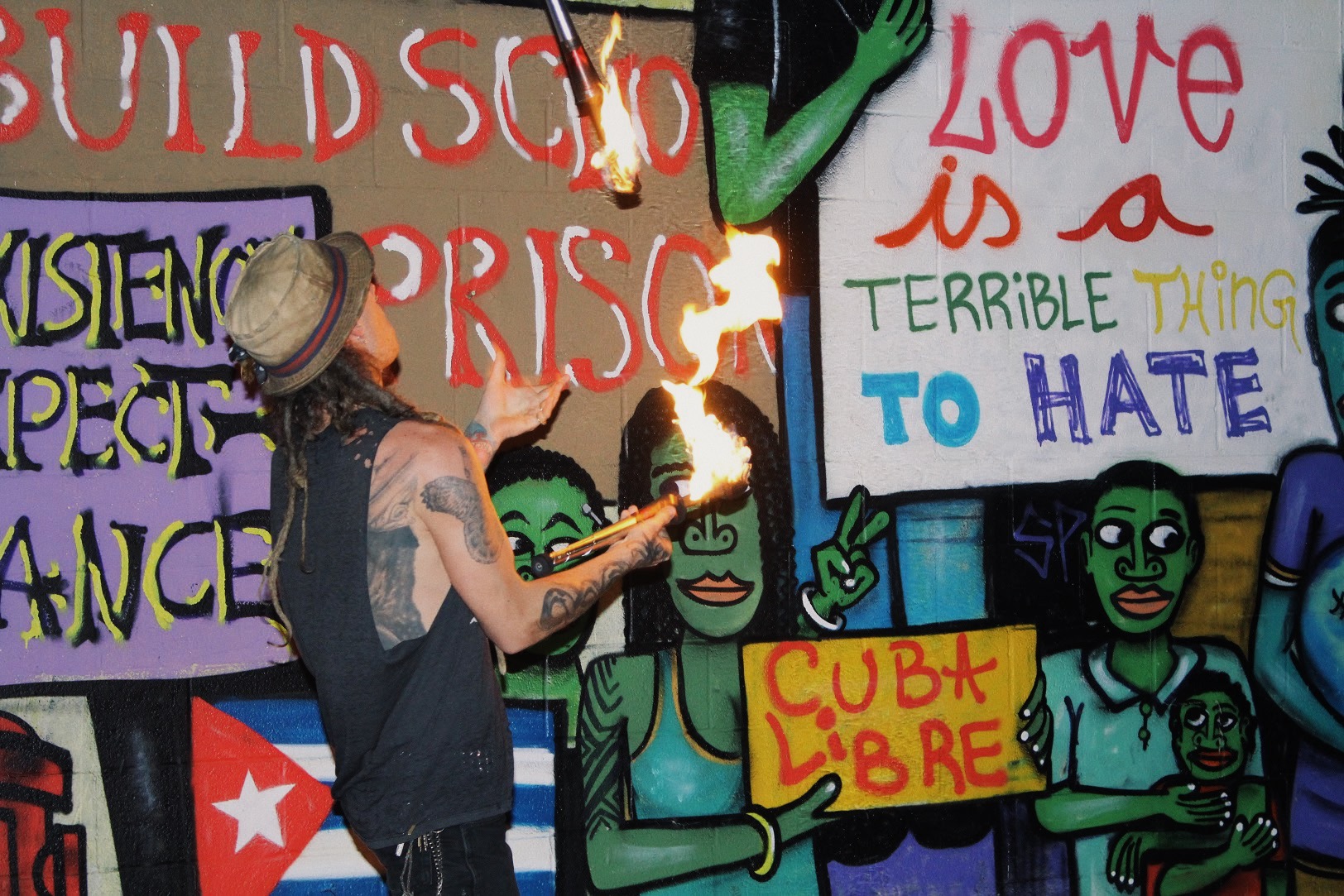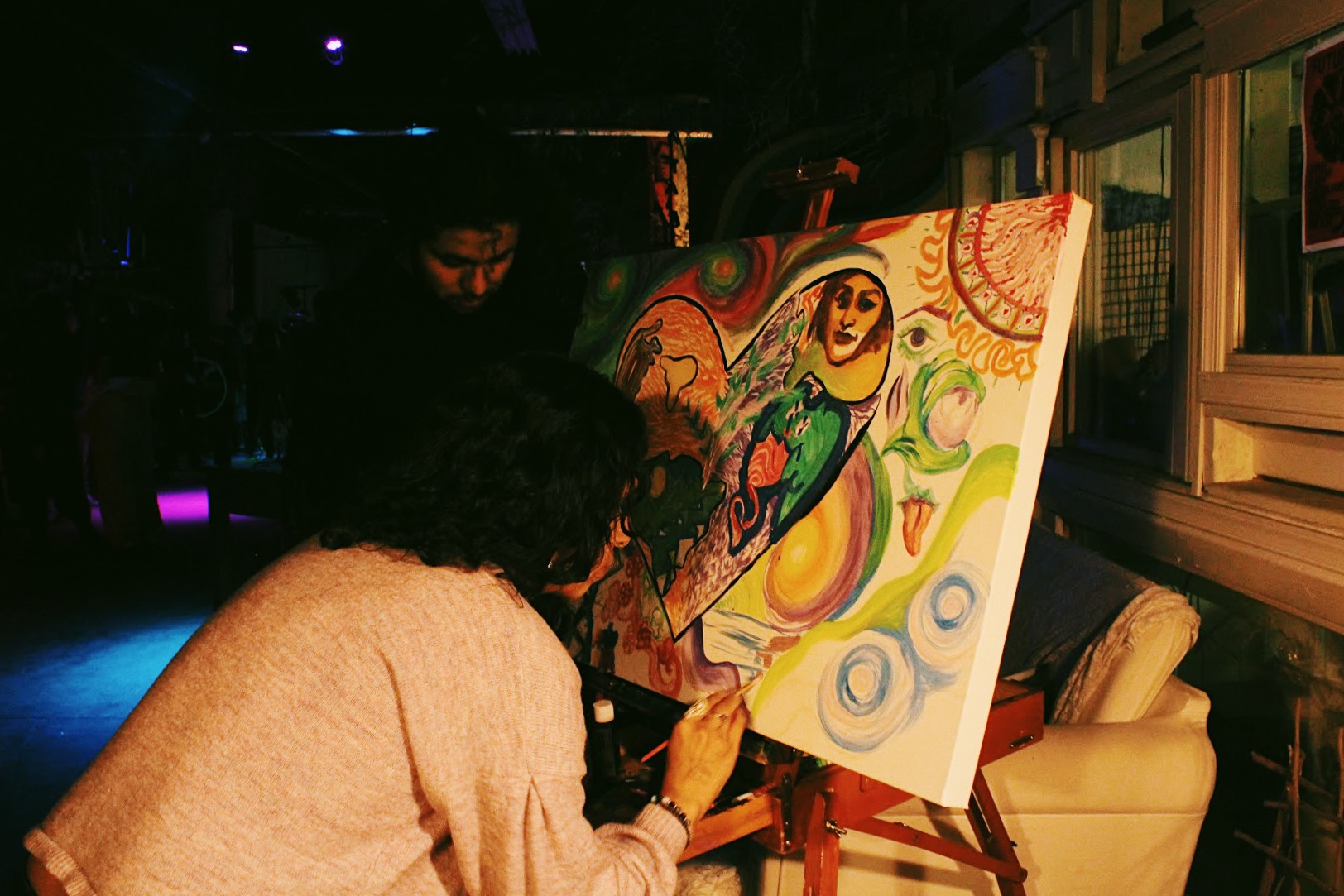 -----------------------------------------
What does one wear to a Mettā Creative Labs event? I thought to myself as I scrambled through my closet, finally shrugging and deciding to stretch a constellation rave bandana over my chest into a tube top. I also settled upon an artist's hat because the time for fashion risks is NOW. I picked up one of my friends on the way to Creative Labs and we blasted BITCH YOU GUESSED IT on the way there. Upon arriving at Creative Labs we instantly ran into the founders of Mettā Creative who greeted us with….stamps!! There were all kinds of vendors showcasing their art and one girl giving out samples of CBD tea. There was also a cool dude making smoothies and serving up vegan gumbo. I was enthralled with the food so my friend and I decided to kick off the night with a coconut melon smoothie as we walked around, checking out the different art installations.
We first came across Summer Blake, who was showcasing her intricate mandala work. She had prints and crystals adorning the table in front of us. We held different crystals up to the light as she described her work. "The process is unconscious for the most part. I'm channeling the vision or message." I asked her about the flower of life piece she was working on and she told me how she had literally measured all the angles out geometrically. "You really have to…" she said, "in order for everything to piece together. It is completely mathematical." I asked her if she could tell us what the "vision or message" meant. "Of course it is left open to interpretation," she said with a smile.
We went to the other side of the room and picked up paint brushes to add to the collaborative piece. I thought about what Summer had said and tried to let the artwork flow through me onto the painting of the Mettā heart before me. We ended up talking about how love and loss is great inspiration for our art, but it's even better once it's just for yourself or because you want to. Won Cho showed us the most recent piece he was working on and it looked celestial--like a black hole going into a flower. I asked him what had inspired it, and he said it was actually based off an image his friend had shared with him. I think that this is why creators are all drawn to each other because we inspire each other just being together.
After grabbing a bowl of vegan gumbo we went to walk and eat, exploring the other side of Creative Labs. On the way over there were fire performers dancing outside. I said EAT IT jokingly to my friend and one of them actually did. Then he spit fire into the air like a dragon. That was a real highlight.
On the other side of Creative Labs a butterfly hoop hung from the ceiling and I just had to try it. I was wearing skinny jeans but I gave my friend a little show swinging around and inverting like it was something I'd done before. It's funny because often I feel like things are drawn to you before you even discover you had a passion for it. This is one of the aspects I love about Mettā events—there are frequent opportunities to try something new or push yourself outside of your comfort zone.
The rest of the space was exquisite. You could hear the sounds of artists recording in the winding spaces throughout. There was a mini golf course artistically crafted out of recycled material. I couldn't help but think that was such a beautiful idea and embodied the overall vibe of creative labs—that you can create art and value out of anything based on your perspective (even trash!). I also really liked how the bathrooms were gender flexible.
There was also this cute little kid dancing and playing with one of the flow lights. I remember hearing, "don't you ever grow up. Don't you ever stop being like this." It was so heartwarming. Then Avocados Anonymous Bandstarted DJ-ing downstairs and the final stage of the night was upon us. There was another girl on the hanging butterfly hoop and everyone let their dancing spirits free.
-----------------------------------------


🖤 We are creating events designed to strengthen & connect the creative community in Baltimore while inspiring sustainability in a fun way #partywithpurpose

🌎🌍🌏

♻️ 15% of Mettā Creative's proceeds will go towards upgrading Creative Labs to become a more 💚 sustainable building with green walls and a community garden! 🌿

-----------------------------------------
This event is 18+

Every ticket purchase comes with one complimentary meal & and drink. 🍻 BYOB for anyone 21+.
-----------------------------------------

🔊 Awesome Local Bands & DJ Performances

🌀 Sound Bath & Yoga with Mary Gellen

🔭 Visual Projections by Gonzostein

🖌 Live Artists & Creative Labs' Resident Artists Displays

🌿 Superfoods & Juice Bar

🌌 Flow & Fire Friendly (🔥 outside only)

🎨 Collaborative Arts & Community Mural

📸 Photo Booth

➿ Funky Games & Prizes


Also available:

☕️ Tea & CBD made by Hemp Kettle Tea Company

💆🏽‍♀️ Massage & Reiki by Sirens Zen Massage and Wellness


🌈 SCHEDULE:
----------------------------
This event is entirely ALL LOCAL TALENT! We care about strengthening the local creative community in Baltimore ♥
----------------------------

FOOD LABS (5pm-11pm):
---
5pm: Welcome!
5pm: Sound Bath with Mary Gellen
6pm: Yoga Nidra with Mary Gellen
7pm: Dinner is served by Chef Pablo Spices! (with some help from Sous-Chef Justin Paterson!)

Menu:
---
Vegan Gumbo ft. Golden Cilantro-Lime Rice
w/ Vegan Cookies and Ice Cream

7pm: Ghost Sugar (Bluegrass)
8pm: Open Jam, BYO Instruments!
(Facilitated by Ghost Sugar)
9pm: Fire Safety Outside
(Mandatory for anyone spinning fire 🔥)
9pm: Đæd Dïgitaĺ (Multi-Genre DJ)
10pm: The Lindsey Golden Project (Contemporary Dance and Cirque Arts Company.)
10pm: Sol Good(Bass DJ)
11pm: Creative Labs activates next door!!


CREATIVE LABS (5pm-2am):
---

7pm: Guided Tour of Creative Labs studios
8pm: Guided Tour of Creative Labs studios
9pm: Guided Tour of Creative Labs studios

11pm: The Lindsey Golden Project (Flow Troupe)
11pm: Gonzostein (Live Visual Projections)
11pm: Shrub Squad (Electronic & Bass B2B2B)
12:30: Tsavor (House)
2am: CLOSE, thank you all for coming ♥
Drive safe, see you at Mettā Creative Labs pt.2!

------------------------------

⚠️ DETAILS:
-------------
🕰WHEN: April 12, 2019 - April 13, 2019
(5:00PM - 2:00AM) 9 hours of magic✨

📍WHERE: Creative Labs, Baltimore

🙏🏽WHY: Tickets are $30 in advance and $33 at the door. Without your support, this would not be possible. Thank you! 🥑 All members and resident artists of Creative Labs get free admission. Please bring your ID. ♥

🚇TRANSPORTATION: Woodberry light rail (metro) stop is SO CLOSE! Only a 5 min walk. Bus line 21 also takes you within 5 mins walking (Clipper Rd & Union Av.)

🛴 🚲 We also encourage the new solar powered scooters & bikes (JUMP, LYFT, LIME, BIRD... there's so many!) Just download the app and enjoy a $2 solar power-assisted ride here! If you are driving, please consider sharing an Über, Lyft or park in the back parking lot if you can👍🏽


✨Feel free to reach out with any questions, comments or concerns✨

For more information about renting a studio or becoming a member at Creative Labs, send an email to creativelabsbmore@gmail.com. Thank you!

————————
THANK YOU ALL FOR COMING!! Here are some photo's from the night.: